Go
2

Market jest akredytowanym przez Amazon dostawcą usług dla Sprzedawców*.
Amazon

Beginner
Nie musisz wiedzieć wszystkiego. My znamy się na sprzedaży na Amazonie, Ty doskonale znasz swój biznes. Połączmy siły i wspólnie podbijmy rynki Amazon. Jak to zrobimy? Najpierw dokładnie przeanalizujemy Twoją ofertę, przeprowadzimy badanie rynku i konkurencji, a następnie przygotujemy rozwiązanie dopasowane do specyfiki Twojej branży. Zdradzimy Ci nasze know-how, które pozwoli Twojej firmie bezpiecznie wejść na platformę Amazon. Odważ się i skorzystaj z pomocy ekspertów. Z nami rozwiniesz skrzydła i podbijesz zagraniczne rynki sprzedaży!
Amazon

Seller FBA / FBM
Chcesz dowiedzieć się, który model sprzedaży wybrać? Gubisz się ustawieniach Amazona? A może po prostu chcesz zarabiać więcej? Skorzystaj z wiedzy i narzędzi ekspertów, którzy od lat działają na platformie Amazon. Wystarczy tylko, że otworzysz się na nowe możliwości. Nie czekaj i już teraz zainwestuj w swoją przyszłość. Zaufaj praktykom, którzy pomogą Ci uniknąć kosztownych błędów. Dołącz do grona sprzedawców, którzy z naszą pomocą już podbili zachodnie rynki sprzedaży!
Vendor

Amazon

Program Vendor Central (1P) to model biznesowy Amazona stworzony z myślą o sprzedawcach którzy współpracują bezpośrednio z Amazon na zasadach B2B. Jeżeli więc dostałeś zaproszenie od amerykańskiego giganta, możesz zostać bezpośrednim dostawcą Amazon. Pytanie brzmi: z czym to się wiąże i czy to się opłaca? Zgłoś się do nas, a przeprowadzimy audyt, który odpowie na Twoje kluczowe pytanie. A może już dostarczasz swoje produkty Amazonowi i zastanawiasz się, jak sprzedawać na Amazonie skuteczniej? Sprawdzimy, czy masz dobrze skonfigurowane konto, bazę produktową i czy ze współpracy z amerykańskim potentatem da się wycisnąć więcej.
Nie przegap szansy na rozwój Twojej firmy.
Skontaktuj się i z naszą pomocą dołącz do grona zadowolonych Sprzedawców Amazon.
Umów się na rozmowę
Niezależnie od tego w którym miejscu teraz jesteś, czy dopiero zastanawiasz się jak zacząć sprzedaż na Amazon lub już na nim jesteś, a może zarządzasz zespołem sprzedaży wielkiej firmy? Zawsze możesz skonsultować się z ekspertami, którzy o specyfice sprzedaży na Amazonie wiedzą bardzo dużo.
Powiemy Ci, czy dobrze zarządzasz swoim kontem, zrobimy audyt oferty i przeanalizujemy Twoje dotychczasowe działania. Jeśli trzeba, udzielimy fachowej porady i krok po kroku wyjaśnimy, jak wprowadzić firmę na platformę Amazon aby nie zgubić się w skomplikowanym modelu biznesowym amerykańskiego giganta. Skontaktuj się i skorzystaj z naszego doświadczenia. Pokażemy Ci jak zostawić konkurencję daleko w tyle.
Go
2

Market - Twój partner w biznesie
Pomagamy


zwiększyć zyski

Zależy nam, żeby nasi Klienci osiągnęli sukces międzynarodowy. Wspólnie dążymy do tego, żeby zagraniczny Klient, słysząc o polskich Sprzedawcach, myślał: WYSOKA JAKOŚĆ.
Dzielimy się


wiedzą

Nie zostawiamy Cię z problemem. Jeśli nie znalazłeś odpowiedzi na Twoje pytanie na naszym blogu, zarezerwuj niezobowiązującą konsultację telefoniczną – chętnie Ci pomożemy.
Ułatwiamy


start w biznesie

Mówimy konkretnie i wprost. Dostosowujemy się do Twojego poziomu wiedzy i zaawansowania. Nie zarzucamy Cię żargonowym słownictwem, żeby udowodnić, że jesteśmy specjalistami.
Fair Play
Wspieramy polskich sprzedawców. Chcemy być fair, dlatego rozliczamy się dopiero, kiedy efekty naszej współpracy są widoczne. Zależy nam, żeby nasi klienci osiągnęli sukces międzynarodowy. Wspólnie dążymy do tego, żeby zagraniczny klient, słysząc o polskich brandach i sprzedawcach, którzy za nimi stoją, myślał: WYSOKA JAKOŚĆ.
Prosta komunikacja
Mówimy konkretnie i wprost. Dostosowujemy się do Twojego poziomu wiedzy i zaawansowania. Nie zarzucamy Cię żargonowym słownictwem, żeby udowodnić, że jesteśmy specjalistami.
Z wielką przyjemnością mogę zarekomendować współpracę z firmą Go2Market a szczególnie z Panem Tomkiem. Pan Tomek jest ekspertem w swojej dziedzinie, posiada duże doświadczenie oraz wiedzę z zakresu sprzedaży na Amazon w Europie. Pomoże sprawnie przejść przez proces rozpoczęcia sprzedaży na Amazonie. Zawsze poradzi i podzieli się swoją wiedzą tak aby móc wybrać dla siebie najbardziej optymalny model sprzedaży. Gorąco polecam współpracę z Go2Market.
Mariusz Niepokój
Export Sales Manager w Seboradin
Z wielką przyjemnością mogę zarekomendować współpracę z firmą Go2Market a szczególnie z Panem Tomkiem. Pan Tomek jest ekspertem w swojej dziedzinie, posiada duże doświadczenie oraz wiedzę z zakresu sprzedaży na Amazon w Europie. Pomoże sprawnie przejść przez proces rozpoczęcia sprzedaży na Amazonie. Zawsze poradzi i podzieli się swoją wiedzą tak aby móc wybrać dla siebie najbardziej optymalny model sprzedaży. Gorąco polecam współpracę z Go2Market.
Mariusz Niepokój
Export Sales Manager w Seboradin
Z wielką przyjemnością mogę zarekomendować współpracę z firmą Go2Market a szczególnie z Panem Tomkiem. Pan Tomek jest ekspertem w swojej dziedzinie, posiada duże doświadczenie oraz wiedzę z zakresu sprzedaży na Amazon w Europie. Pomoże sprawnie przejść przez proces rozpoczęcia sprzedaży na Amazonie. Zawsze poradzi i podzieli się swoją wiedzą tak aby móc wybrać dla siebie najbardziej optymalny model sprzedaży. Gorąco polecam współpracę z Go2Market.
Mariusz Niepokój
Export Sales Manager w Seboradin
Previous
Next
Blog

- Jak sprzedawać na Amazonie? Wszystko, co powinieneś wiedzieć w jednym miejscu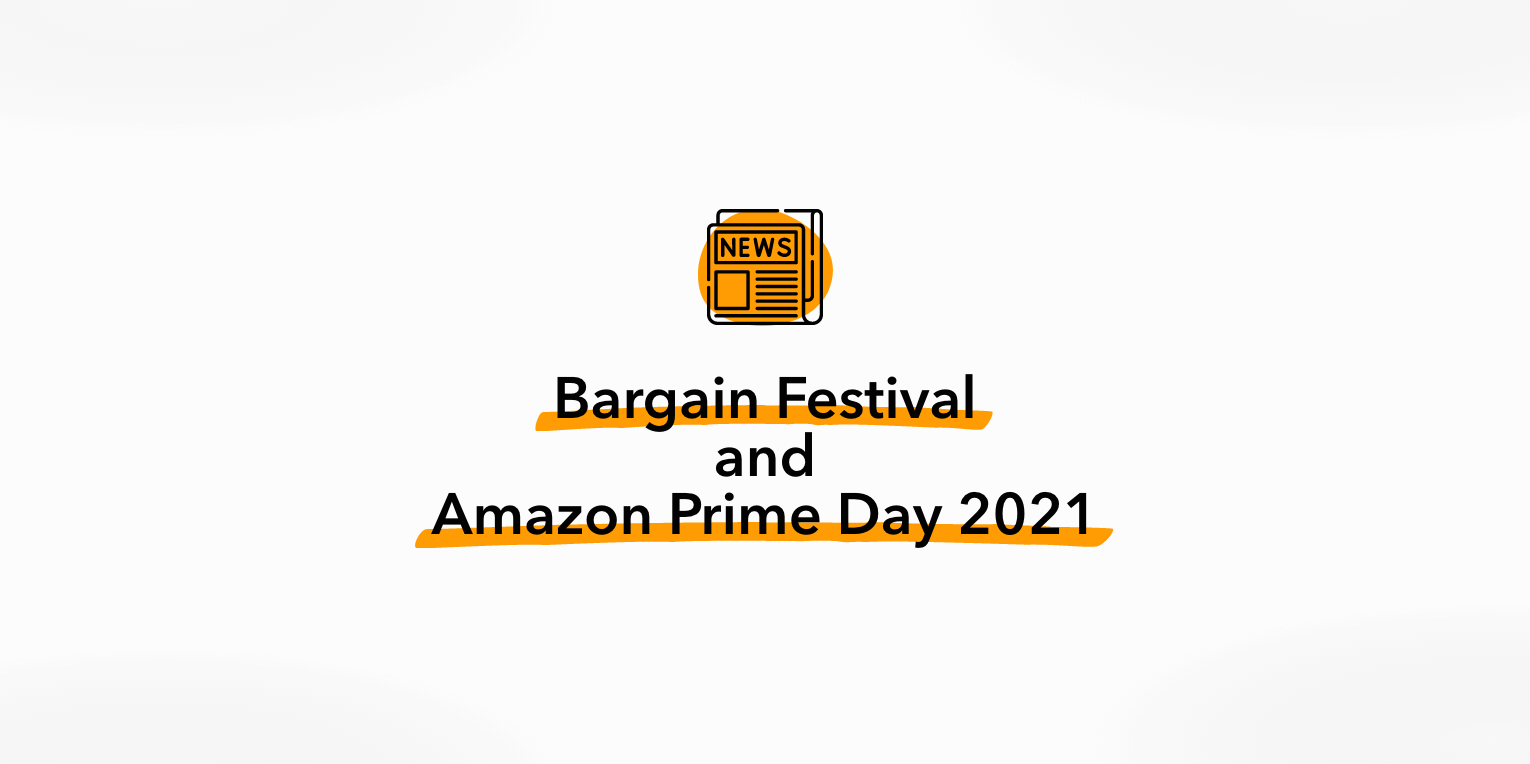 Bargain Festival and Amazon Prime Day 2021
Przez Amata Borys-Chudek
14 June 2021
The Bargain Festival is underway on Amazon.pl We know the date of Prime Day
Until the 13th of June 2021 on Amazon.pl you can find many products at bargain prices. During the Bargain Festival you will find price cuts in over 30 categories, including Home & Kitchen, Electronics, Beauty, Toys, Baby, Sports, Garden and Fashion. In the Instant bargains section customers will find offers that are only active for a dozen or so minutes. These are mainly electronic goods and household appliances.
What about Prime Day? Amazon has already set the date for its flagship event – it will take place on 21-22 June. It is not known whether the Polish version of this sales platform will be among the marketplaces included in the promotions of this action for the first time. However, it can be assumed that the Bargain Festival is a consolation prize as a local equivalent of Amazon Prime Day.
Happy Selling
Go2Market Crew
Amata Borys-Chudek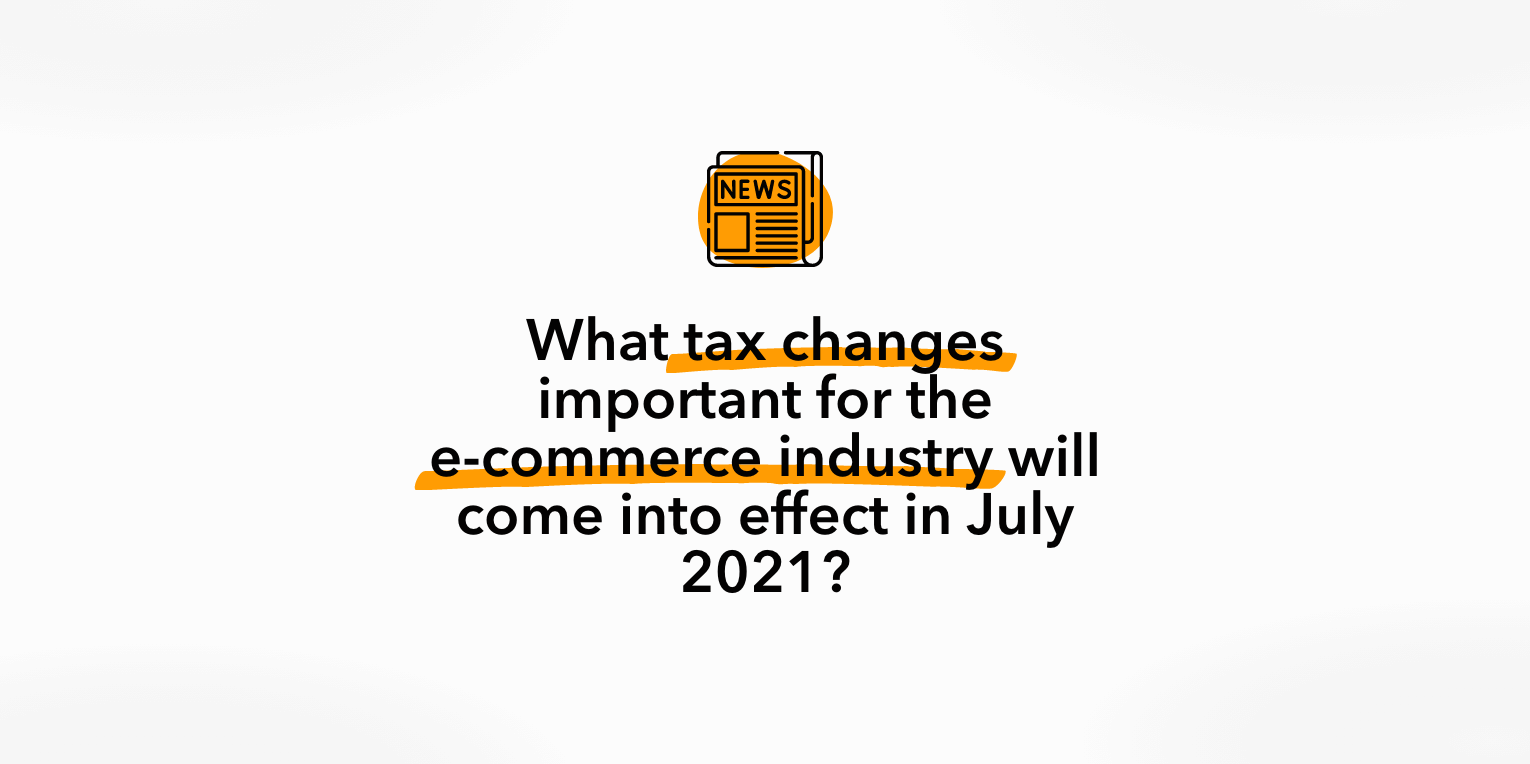 What tax changes important for the e-commerce industry will come into effect in July 2021?
How will the tax changes in the European e-commerce marketplace affect sales on Amazon?
Important changes are coming to the Community market from the 1st of July 2021 that could affect the e-commerce sector. Check what tax rules will apply to goods sent to EU member states by suppliers from non-EU countries. What will change for sellers storing goods in Europe? The modifications to tax assessment introduced by Council Directive (EU) 2017/2455 are beneficial for start-ups shipping from the Community.
What do the new EU regulations on goods tax consist of?
Until 1st of July 2021, there was a VAT exemption for imports from non-EU countries of goods with a value not exceeding €22. This regulation was often used to register more valuable shipments and undercut their price so that no tax would be paid. This meant large losses for the EU taxpayer. It was therefore decided to introduce certain changes for sellers who send goods from warehouses outside the EU or are based in a non-EU country.
What is new in taxation?
– The VAT exemption has been abolished altogether; this tax will have to be paid regardless of the value of the shipment. The seller will pay this tax even if he determines that the contents are worth 1 cent.
– The exemption from import tax for consignments below a certain price limit has been repealed.
– Non-Community sellers will have to register all goods they want to send to the EU in advance using an electronic form.
– A new procedure is introduced for transactions of up to €150 sent from a non-EU country, which are not subject to customs duty. A taxable person not established in the EU must appoint an intermediary to submit monthly VAT returns and pay the taxes due on his behalf.
Check the advantages of this new solution for companies based in one of the Member States. If you have questions or concerns about selling on Amazon, arrange a subject matter consultation.
Improved convenience for sellers based in one of the EU member states
If your business is based in Poland or another EU Member State, you can benefit from a new VAT settlement mechanism, the One Stop Shop (OSS). It is worth considering registering for the OSS, as it makes it much easier to settle this tax in Community trade. You only need to be registered as a payer of this public duty in one of the EU countries.
As a result, as of April 1st this year, in order to sell goods to customers residing within the Community, you do not have to apply for a tax identification number in each country to which your consignments go. This applies to companies whose total annual sales within the Community do not exceed EUR 10,000. Therefore, you only need to have a Polish VAT ID number and to register with the OSS in order to trade freely in the European market. This avoids the need to apply for 26 further identifiers at other foreign tax offices. You can find detailed information here: Guide to the VAT One Stop Shop. You can also benefit from the know-how of experts in selling on Amazon, who will discuss any confusion with you and help you with the paperwork required to start selling.
What impact will the new tax regulations have?
According to Marketplace Pulse, there are currently around 6 million sellers on Amazon. More than half come from North America (US, Canada, Mexico) and a quarter from Europe. In the European marketplace, many companies offer goods on several or all local marketplaces. It is estimated that up to 40% of these are Chinese. For example, of the 691,000 sellers on amazon.de, more than 180,000 are Chinese, and around 200,000 did not specify their country of establishment. It can therefore be assumed that they also come from East Asia.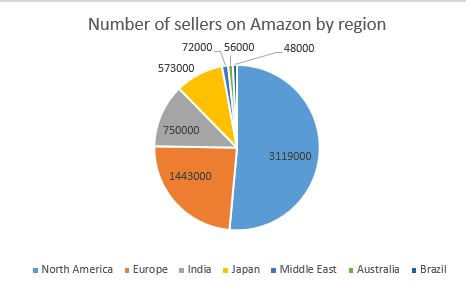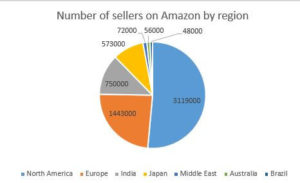 Fig. 1 – Number of sellers on Amazon by region (as of March 2021)
Compiled from: Amazon Tops Six Million Third-Party Sellers,
https://www.marketplacepulse.com/articles/amazon-reaches-six-million-third-party-sellers
The introduction of new tax rules in the EU will make it easier for local companies to operate by removing the need for them to register multiple times with tax authorities. It will also force Asian competitors to pay tax on goods and services where the real sales take place – in Europe. Removing the possibility of using the exemption for shipments of up to EUR 22 will increase Member States' tax receipts.
What are the advantages of OSS for Amazon sellers?
Estimates put the VAT gap loss at around €7 billion in 2020. Among other things, the new directive will eliminate attempts to undercut the prices of goods entering this market. For sellers, this means:
– fair competition; introduction of fair play rules obliging all entities selling online within the Community to pay VAT;
– elimination of companies that used to profit from undervaluing shipments; this will now become much less profitable for them;
– the possibility for companies established in the EU to benefit from the OSS – the harmonised tax mechanism making it easier to operate in the European market, provided their turnover does not exceed € 10 000 per year (total for the entire EU market);
– increase in importance of the offer of higher quality products; so far, on the sales portals, one had to compete with much cheaper products from Asia; from July, customers, having a choice of two similar offers, will compare parameters other than price, which will increase the chance of selling better quality goods.
The announcement of the changes itself has had an effect. Already in 2018, when it was known that shopping platforms – Amazon, eBay, etc. – would be responsible for possible tax evasion of their customers. The portals therefore introduced new registration rules. They started to require a local tax number from all sellers. In this way, they can be sure that the legally required taxes are paid on sales via the service.

In Germany, at the Berlin-Neukölln tax office, which registers foreign companies for VAT, the number of Chinese companies registered for VAT has risen from 435 to 40,000 in three years (figures from September 2020). During this period, 400-600 applications for a tax number were submitted there per week.
How will sales of goods shipped from outside the EU or by vendors not established in the Community be handled?
According to the Austrian "Der Standard", after the 1st of July, the local customs authorities are planning stricter controls on small consignments and "gift packages" arriving in Austria from third countries. This will make it possible to verify them. The conformity of the declared value with the actual amount to be entered on the form will be checked. Officials will also be more effective in identifying goods that are prohibited from being imported into the EU.
The planned regulations will also eliminate situations where companies based in Asia send products from Amazon's European warehouses (FBA). In theory, they are then selling from within the EU. From now on, VAT will also have to be paid in Europe in this case. Previously, this was usually passed on to the customer. It was possible to exploit this loophole in the law and count on luck if the tax authorities did not realise that a tax-free transaction had been concluded between a European consumer and an Asian seller.
From the 1st of July 2021, this will not be possible. Goods and services tax will become due on every product without exception, regardless of its value. If you would like more information, please contact the professionals. We will prepare your business to sell on the Amazon platform!
Happy selling
Go2Market Crew
Amata Borys – Chudek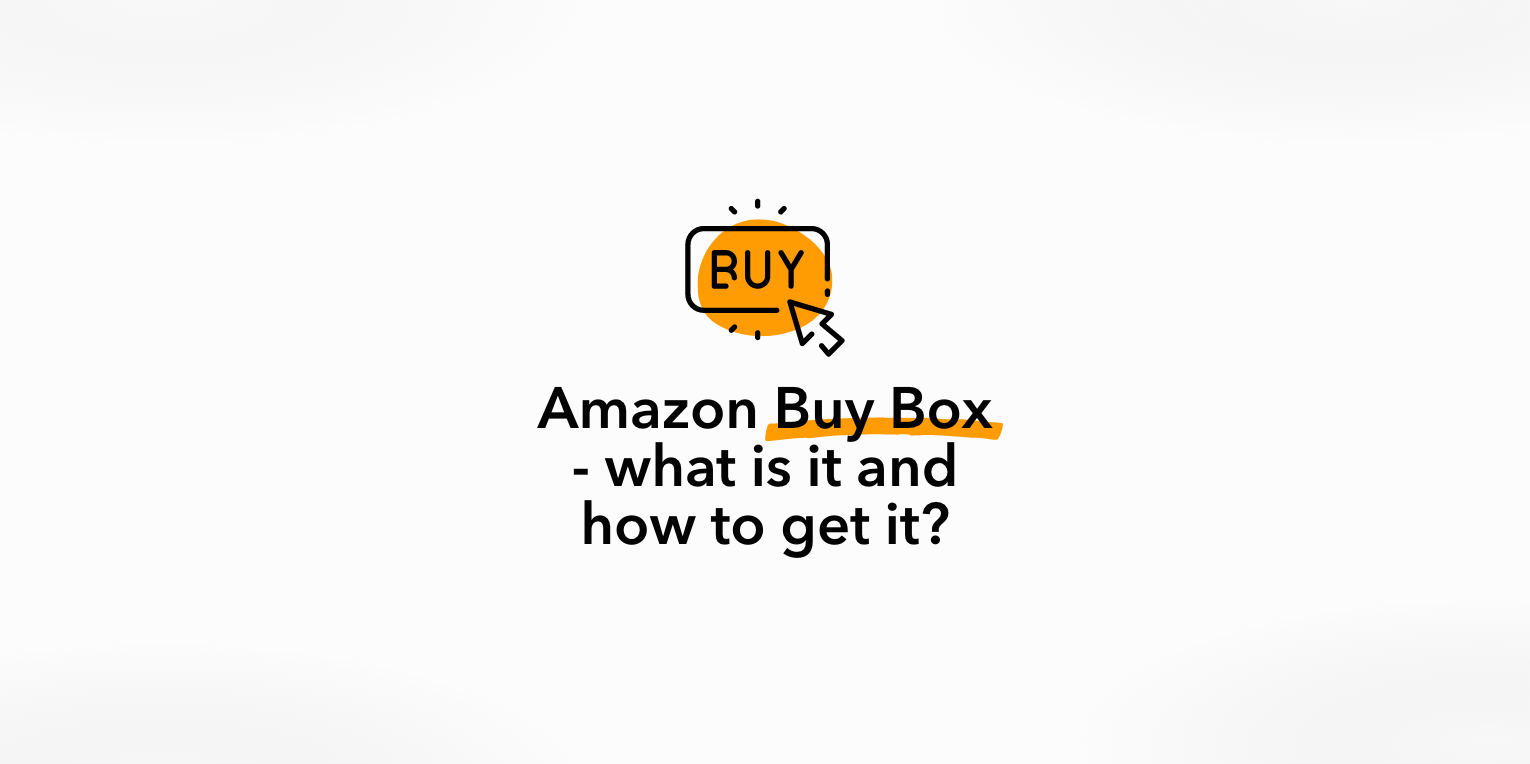 Amazon Buy Box – what is it and how to get it?
Przez Amata Borys-Chudek
21 May 2021
Amazon Buy Box – what is it? This is one of the most important questions sellers on Amazon ask themselves. The Buy Box determines whether you are the first choice seller or another seller and determines the performance of your sponsored campaigns. It's Amazon's A9 algorithm that decides who gets the Buy Box, and you as a seller can't quite control that. However, there are certain rules and elements that must be met to increase the likelihood of an Amazon Buy Box being awarded to just your listing.
Types of Sellers:
There are two types of sellers on Amazon:
    1. Amazon, which sells a wide range of private label and distributor products (Amazon Vendor Central model)
    2. third-party sellers who typically specialize in one or more categories (Seller model)
As there is no limit to the number of sellers that can use the Amazon platform, multiple sellers often sell the same item. They are known as resellers ( as opposed to private label sellers, where items are sold under what is known as a private label, often a registered brand).
[Reseller – In short, an Amazon Reseller is an individual or company who sources third-party branded products in bulk – and then sells (resells) them on Amazon to retail customers realising a profit on the difference between the purchase and sale].
What is an Amazon Buy Box?
When multiple Amazon resellers are selling the same product at the same time, suddenly there is competition.  For resellers, then, one of the biggest success factors is winning the Amazon Buy Box, or being the first choice seller.
The Amazon Buy Box is displayed on the individual product page and, for the customer, is the quickest and easiest way to shop. The offer that appears in the Buy Box is the one that Amazon believes is the best of all available for the product. The Buy Box is located in the top right corner of the product page, includes an "Add to Cart" button, and literally invites Amazon customers to purchase a specific product from that particular seller (the Buy Box winner). All other sellers who offer the product are listed by name and their selling prices are shown below the Buy Box.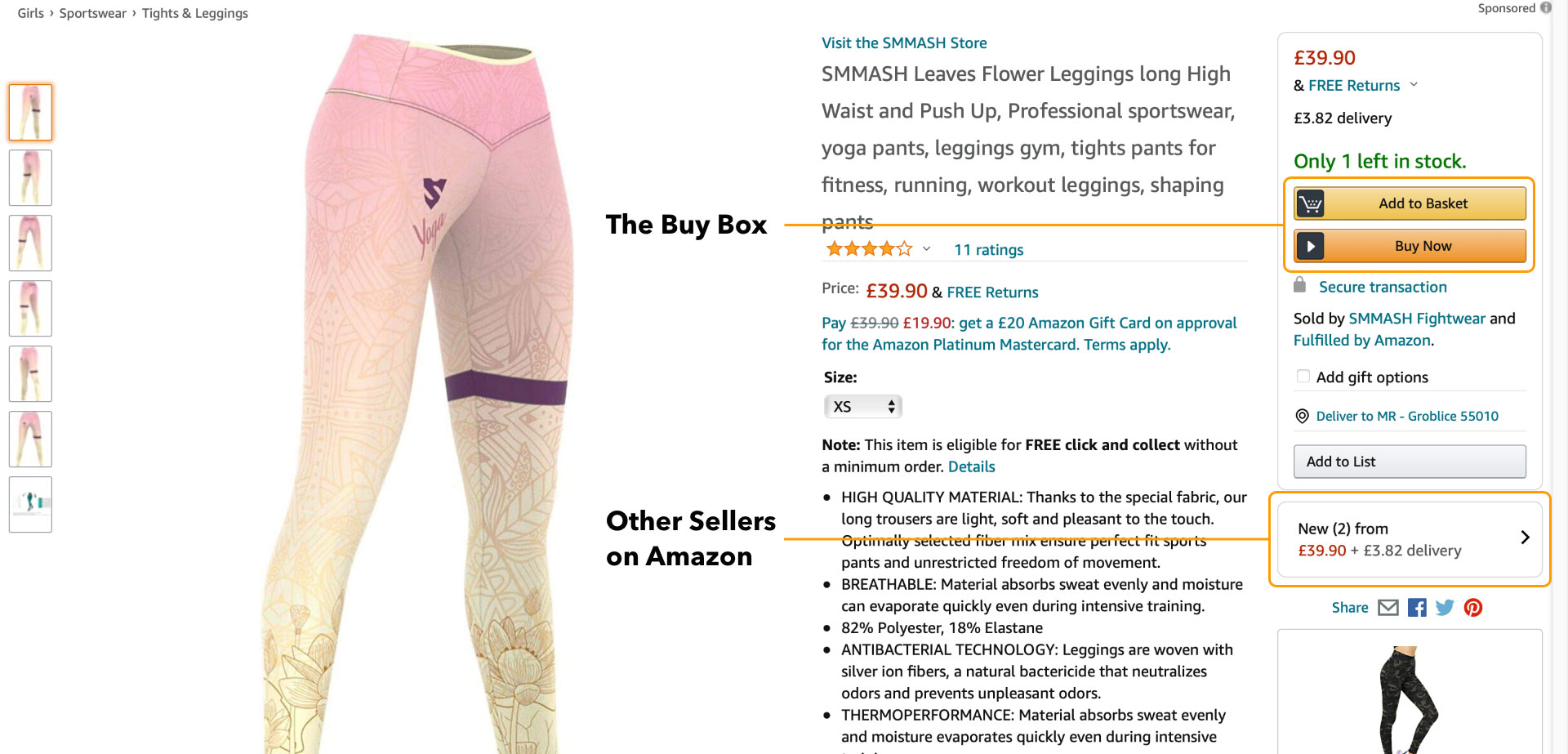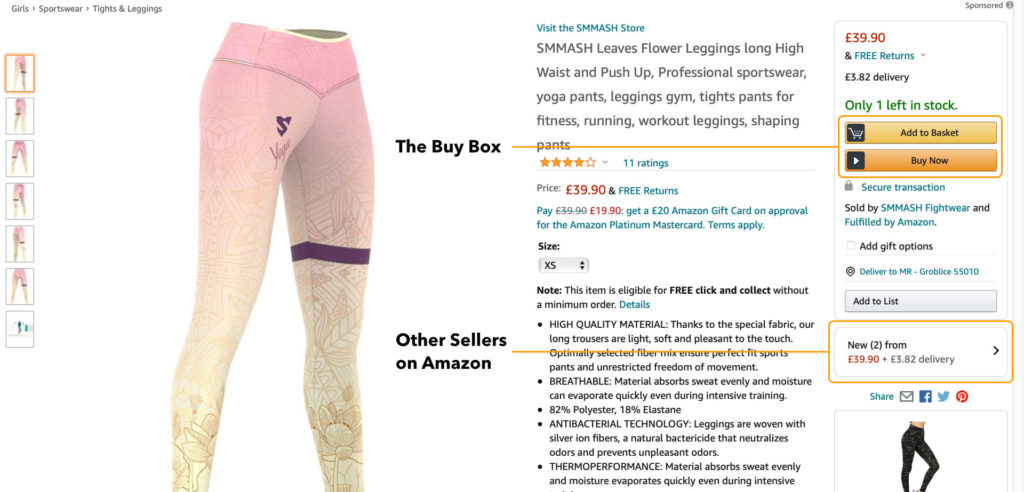 The importance of having an Amazon Buy Box is demonstrated by the fact that as many as 85% of Amazon sales are made specifically through the Buy Box, and this percentage is even higher for mobile purchases. Here, unlike on a desktop or laptop, the mobile site includes the Buy Box directly below the product image. Amazon reported that already in the 2016 holiday season, up to 72% of customers worldwide shopped via smartphone, and year on year the popularity of this form of shopping is increasing.
In developing the Buy Box formula, Amazon ensures that only verified and trusted retailers who offer a reasonable price win the Buy Box. The result? Successful sales on Amazon and a positive experience for consumers that encourages them to buy again.
To "earn" the Buy Box, you must prove to Amazon that you are reliable, that your product is quality, and that you provide top-notch account service. To qualify for the Buy Box battle at all you should meet the following requirements:
    1. Having "Professional" account status and selling for at least 90 days.
    2. Have Buy Box-eligible status – sellers who have Buy Box-eligible status (formerly known as Amazon Featured Merchant Status) receive the benefits associated with placing their listings on Amazon. Their listings are eligible to compete for the Buy Box, and listings that do not win the Buy Box are eligible for placement in the Buy Box More Buying Choices.
    3. Selling new products .
    4. Having an available inventory of the item competing for the Amazon Buy Box. Amazon's algorithm favours sellers whose product availability is kept high.

What determines the awarding of an Amazon Buy Box?
Understanding how Amazon's algorithms work allows you to work on optimising the performance of relevant metrics, ultimately increasing your chances of winning a Buy Box and beating your competition. There are many variables that Amazon takes into account.  These are outlined below. The key is to invest resources and energy into those factors that have the greatest impact on the Amazon Buy Box and strive to meet the target for all requirements.
Fulfillment Method:
Sellers who choose FBA (Fulfillment by Amazon) or SFP (Seller-Fulfilled Prime) typically have an advantage over those who sell FBM (Fulfillment by Merchant). As mentioned above, the overall customer experience of the purchase is extremely important to Amazon, which is why the platform places a premium on those who outsource the operational handling of orders to Amazon. This is because it guarantees a timely and hassle-free delivery. If, on the other hand, you prefer to handle shipping and all other operational activities yourself, you still have a chance to win an Amazon Buy Box, but you have to "prove" that you deliver quickly, reliably and to the satisfaction of your customers. In other words – Amazon's sales service works perfectly for you.
Product Price – The total amount that a product is sold for on Amazon:
Amazon's goal is to increase sales because more sales volume means more revenue for the online giant. For this reason, the retailer with the lowest price is often rewarded with the Buy Box specifically.
However, the lowest price does not always win. As a customer-centric platform, Amazon also attributes a key role to sales performance. As such, excellent sales performance and ratings can beat the lowest price in the battle for the Amazon Buy Box. If two sellers have exactly the same ratings, but the price of one seller's product is 0.01 lower then that seller will win the Buy Box but certainly not 100% – Amazon will also split sales between other sellers, but the seller with the lowest price will make the most sales. If Amazon as a seller appears on a given product listing the rules change and it is Amazon's offer that largely wins the Buy Box and even a price advantage of more than 0.01 does not guarantee a Buy Box.
Shipping Time:
The faster you ship, the better. Delivery within 2 working days is most favourable if you operate on the FBM model of course.
Product availability:
Temporarily unavailable listings and "out of stock" messages effectively prevent you from getting a Buy Box. Ensure that your stock is replenished on a regular basis.
Account Performance ( Account Health):
An overall indicator of account quality which includes Customer Service Performance (CSP) and Delivery Performance.
Customer Service Performance (CSP) → Order Defect Rate(ODR):
ODR is a key metric in determining your business' ability to provide the best customer service. It represents all orders with a defect (defined below) as a percentage of total orders in a given 60-day period. Account ODR is affected by the following factors:
    – negative feedback, A-to-Z Complaints,
    – Service Chargeback Rates.
According to Amazon's policy, the defective order rate cannot exceed 1% of total orders. More recently, Amazon has also included the Invoice Defect Rate (IDR), which is the failure to include an invoice with a customer's order, in the CSP rate. At this point, Amazon recommends that this rate not exceed 5%. Momentarily, there is no penalty for failing to meet this target, but from April 2021, an IDR above 5% could result in account deactivation.
Customer Feedback:
Customer feedback is another factor that influences the Amazon Buy Box algorithm. This feedback includes positive, neutral and negative customer reviews over the last 30, 90 and 365 days. To get the best results, you need to get at least a 90 percent positive customer feedback rating. Amazon also looks at how many reviews you have in relation to your sales history. If you have a longer sales history then the Amazon Buy Box algorithm expects more reviews. That's why it's important to encourage shoppers to give reviews after a completed purchase.
Customer Response Time:
A seller is required to respond to every customer message within 24 hours, regardless of the day of the week, holidays or holidays. However, when competing for Amazon Buy Box, responses should be provided up to 12 hours after the request is received, giving you a competitive advantage.

Delivery Performance:

   – Valid Tracking Rate (VTR)
This is the percentage of all orders shipped with correct shipping data (correct Tracking Number and correct carrier name).
Here the vendor must stay above 95%.
    – Late Shipment Rate (LSR)
This is the number of orders shipped later than the expected shipping date. The LSR must be kept below 4%.
    – On-Time Delivery Rate (OTDR)
This is the percentage of orders that were delivered on time. Amazon recommends that this rate be maintained above 97%.
    – Cancellation and Refund Rate
Too many cancelled orders and returns also have a negative impact on the overall quality of your account. Here the rate must not exceed 2.5%.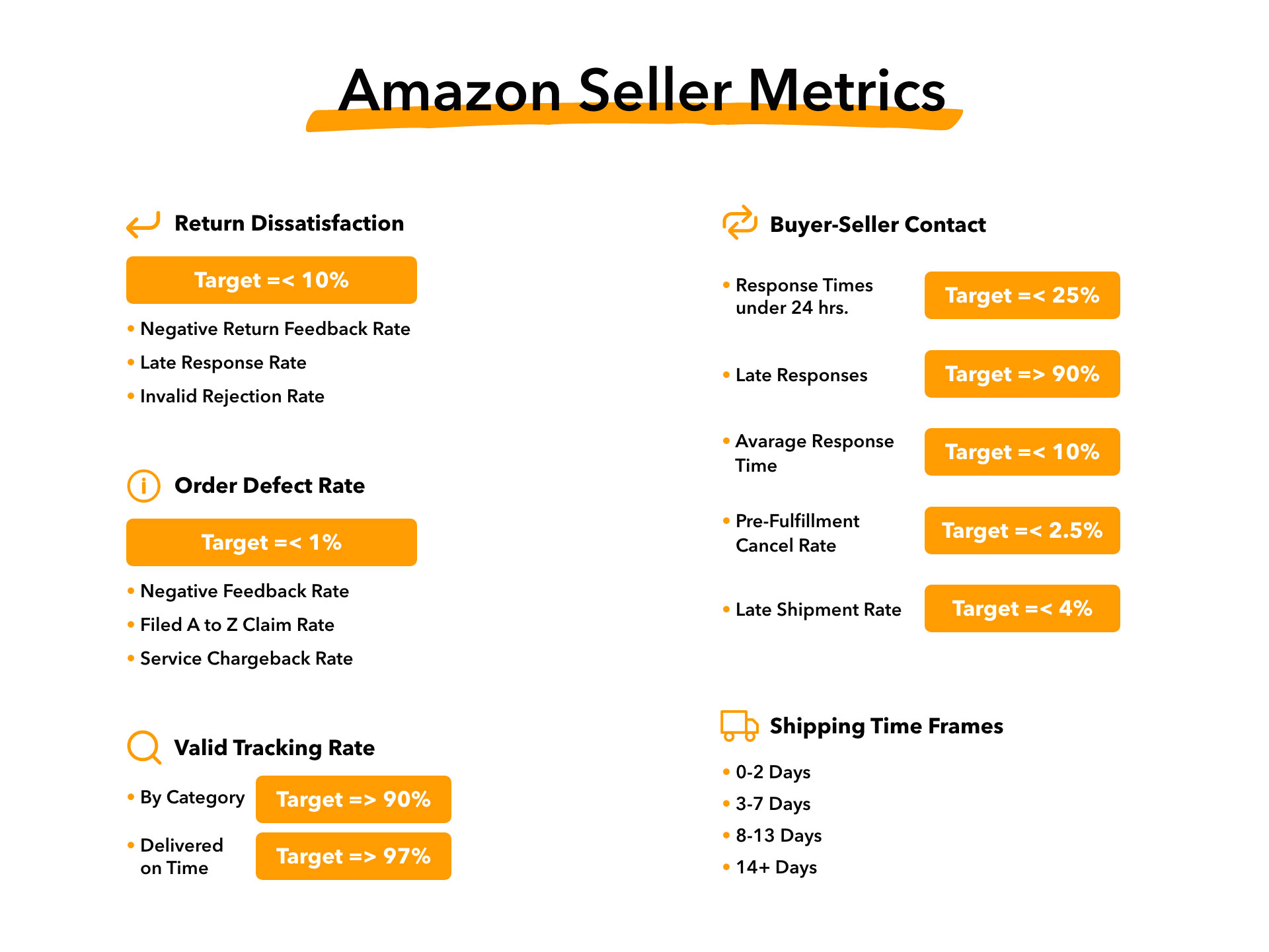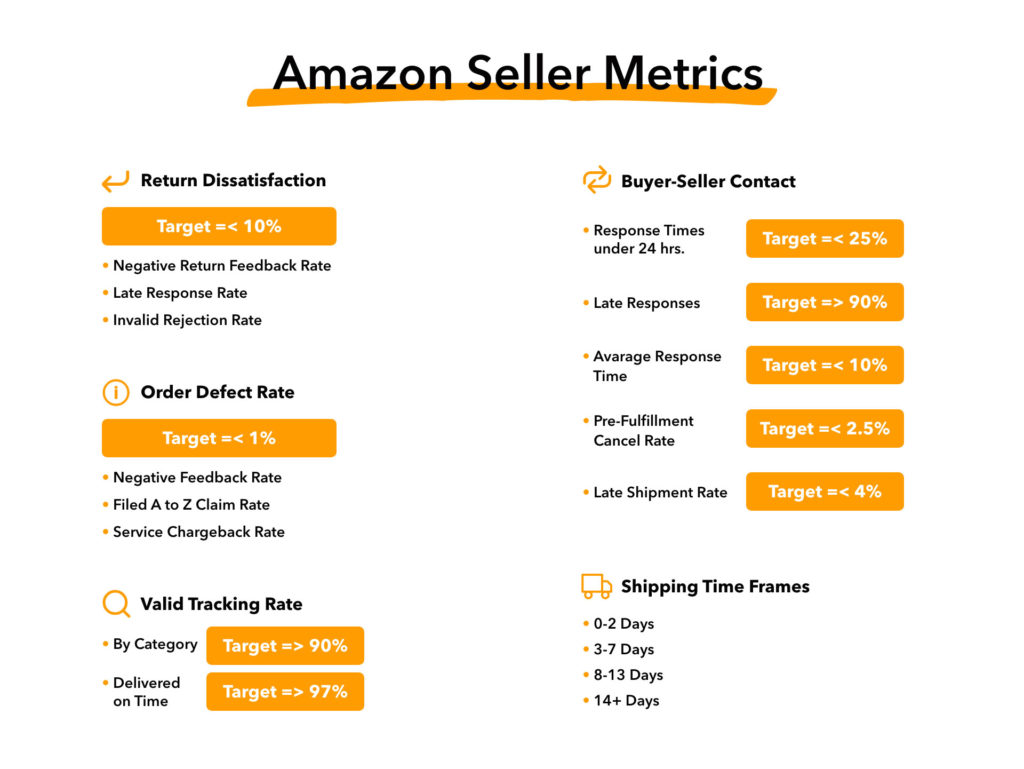 The table below summarises the elements that affect the Amazon Buy Box and classifies them according to their relevance in the process of acquiring it. Analyse your Seller account against the indicators below, identify which elements you can improve. Periodically return to this summary to review these values and set a target for further optimisation.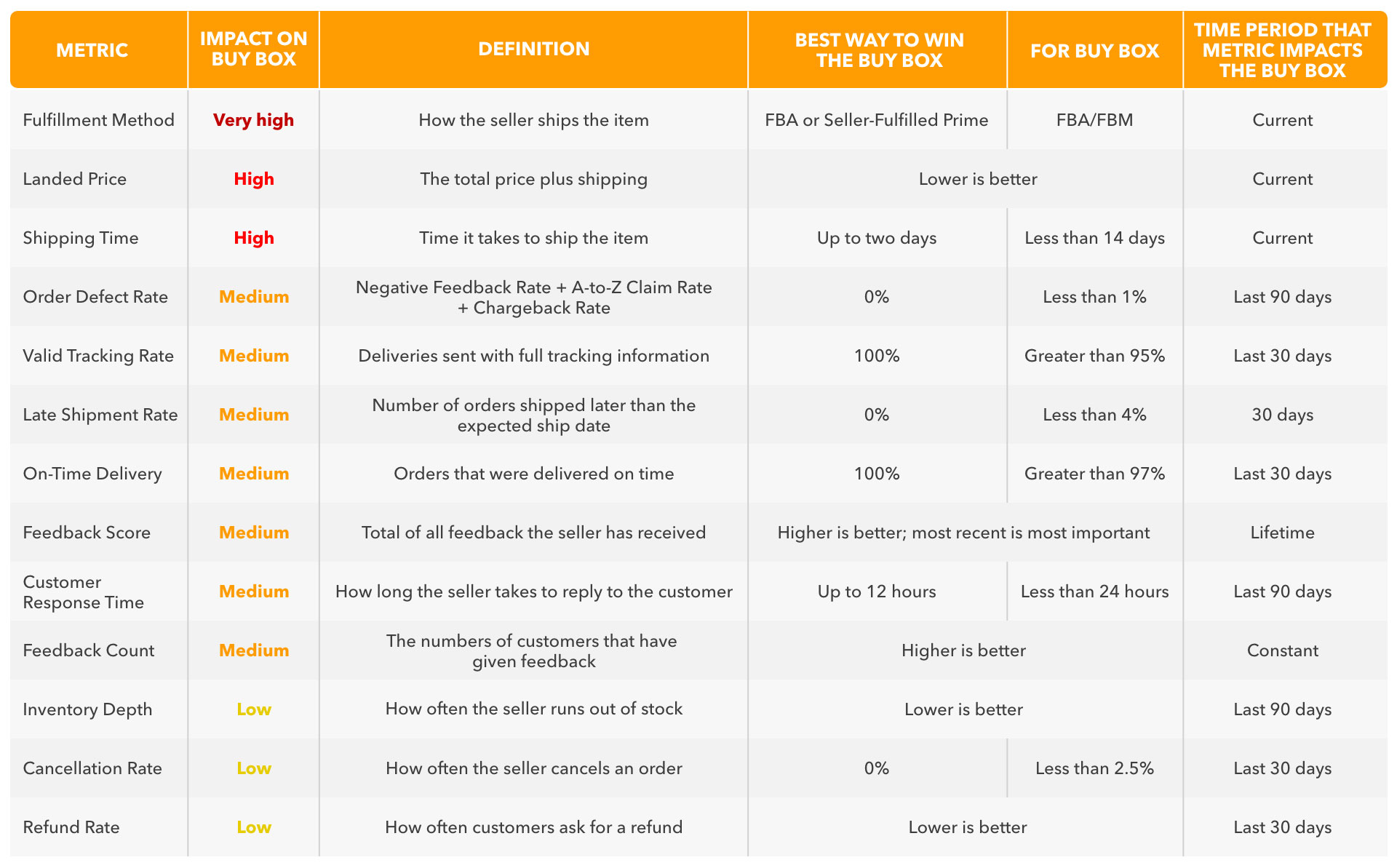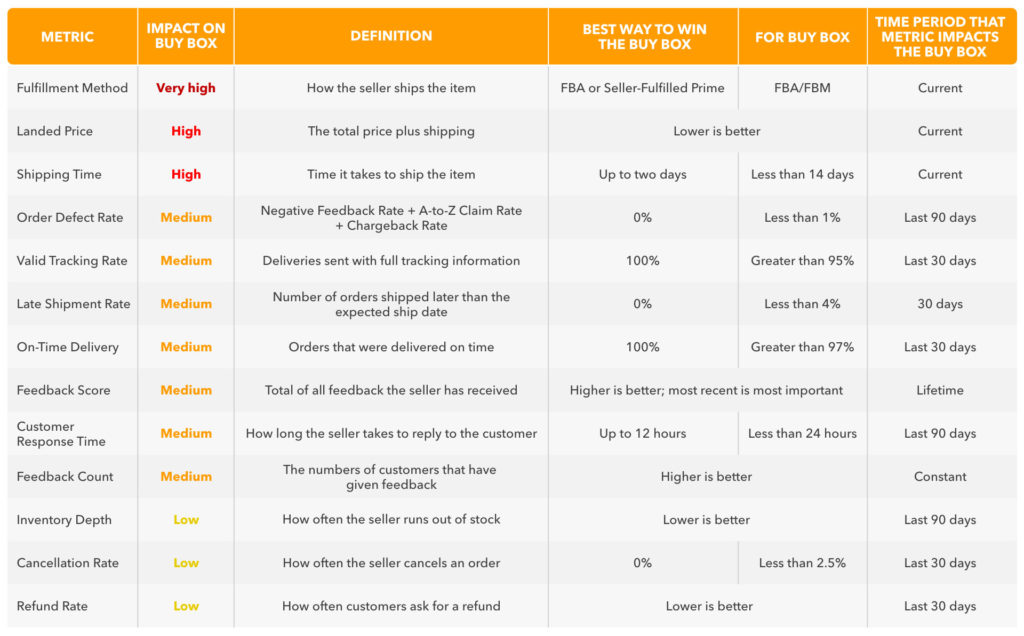 SUMMARY
There is no golden mean for winning the Amazon Buy Box. This success is made up of a number of metrics that need to be monitored and continuously improved.
Being able to sell in an FBA model, having Prime products, improving customer service and understanding pricing are key to winning this coveted privilege. Of course, Amazon has not made public the factors mentioned here. As with Google's algorithm, this is an A9 Algorithm secret, but our experience on many client projects and the findings of other experts suggest that the metrics described above have a strong impact on getting your listing into the Amazon Buy Box.
At Go2Market we are happy to share our knowledge, our experiences and encourage you to do the same. If you have any comments or questions about Amazon Buy Box share them with us and other sellers in the comments.

Happy Buy Box winning!
Magda Wiącek
Head of Customer Care
Skuteczna sprzedaż na Amazon
Amazon to platforma marketplace, która do rozpoczęcia korzystania z jej usług zachęca coraz większą liczbę klientów. Od kiedy Amazon uruchomił sprzedaż w Polsce, zastanawiasz się pewnie, jak sprzedawać na Amazonie, by zwiększyć swoje zyski? Go2Market oferuje wsparcie, do którego zalicza się obsługa sprzedaży na Amazonie, a także założenia konta sprzedawcy. Dzięki naszej pomocy poznasz zasady sprzedaży na Amazonie bez potrzeby brania udziału w kosztownym kursie czy szkoleniu.
Jak skutecznie sprzedawać na Amazonie?
Zastanawiasz się, w jaki sposób osiągnąć satysfakcjonujące wyniki w sprzedaży? Skorzystaj z naszego wsparcia, a krok po kroku wskażemy Ci jak wprowadzić sprzedaż oferowanych przez Ciebie produktów na platformę Amazon. Jeśli posiadasz już konto na Amazonie, skorzystaj z usługi, jaką jest konsulting sprzedaży na Amazon. Dokonamy analizy, która pozwoli nam wskazać, jak powinna wyglądać skuteczna sprzedaż na Amazonie w Polsce. Nasze doradztwo obejmuje także początkujących sprzedawców, którym w ramach pakietu Amazon Beginner pomożemy dokonać rejestracji marki, a także stworzyć listing produktowy i wyprofilować sklep w taki sposób, by sprzedawanie na Amazonie przynosiło Twojej firmie zyski. Jeśli chcesz to robić jako partner Amazonu i powierzyć mu sprzedaż, wybierz program Amazon Vendor Central.
Go
2

Market – jedyna agencja w Polsce, której partnerem jest Teikametrics – amerykańska firma technologiczna wspomagająca prowadzenie kampanii produktowych na platformie Amazon.
*Amazon, Amazon Service Provider Network, Amazon SPN, and Amazon SPN logo are trademarks of Amazon.com, Inc. or its affiliates.