Amazon Buy Box – what is it? This is one of the most important questions sellers on Amazon ask themselves. The Buy Box determines whether you are the first choice seller or another seller and determines the performance of your sponsored campaigns. It's Amazon's A9 algorithm that decides who gets the Buy Box, and you as a seller can't quite control that. However, there are certain rules and elements that must be met to increase the likelihood of an Amazon Buy Box being awarded to just your listing.
Types of Sellers:
There are two types of sellers on Amazon:
1. Amazon, which sells a wide range of private label and distributor products (Amazon Vendor Central model)
2. third-party sellers who typically specialize in one or more categories (Seller model)
As there is no limit to the number of sellers that can use the Amazon platform, multiple sellers often sell the same item. They are known as resellers ( as opposed to private label sellers, where items are sold under what is known as a private label, often a registered brand).
[Reseller – In short, an Amazon Reseller is an individual or company who sources third-party branded products in bulk – and then sells (resells) them on Amazon to retail customers realising a profit on the difference between the purchase and sale].
What is an Amazon Buy Box?
When multiple Amazon resellers are selling the same product at the same time, suddenly there is competition. For resellers, then, one of the biggest success factors is winning the Amazon Buy Box, or being the first choice seller.
The Amazon Buy Box is displayed on the individual product page and, for the customer, is the quickest and easiest way to shop. The offer that appears in the Buy Box is the one that Amazon believes is the best of all available for the product. The Buy Box is located in the top right corner of the product page, includes an "Add to Cart" button, and literally invites Amazon customers to purchase a specific product from that particular seller (the Buy Box winner). All other sellers who offer the product are listed by name and their selling prices are shown below the Buy Box.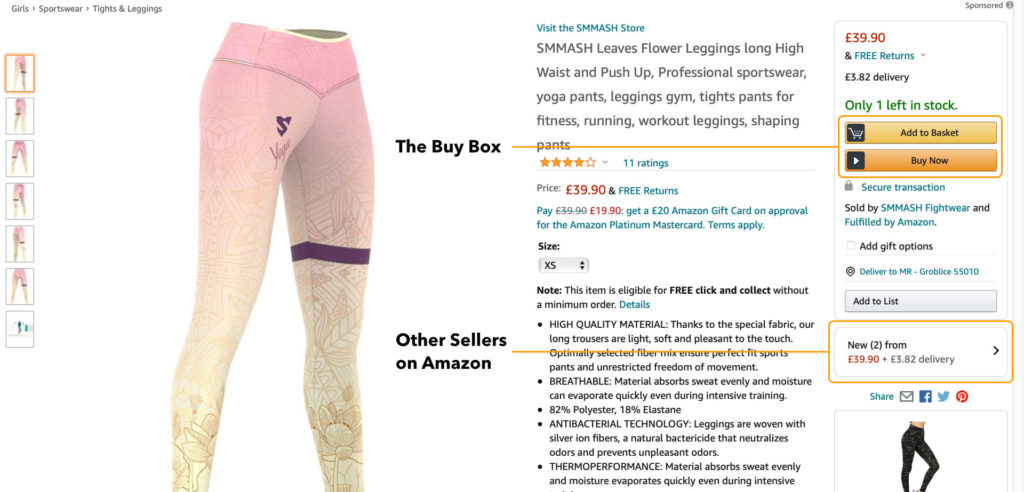 The importance of having an Amazon Buy Box is demonstrated by the fact that as many as 85% of Amazon sales are made specifically through the Buy Box, and this percentage is even higher for mobile purchases. Here, unlike on a desktop or laptop, the mobile site includes the Buy Box directly below the product image. Amazon reported that already in the 2016 holiday season, up to 72% of customers worldwide shopped via smartphone, and year on year the popularity of this form of shopping is increasing.
In developing the Buy Box formula, Amazon ensures that only verified and trusted retailers who offer a reasonable price win the Buy Box. The result? Successful sales on Amazon and a positive experience for consumers that encourages them to buy again.
To "earn" the Buy Box, you must prove to Amazon that you are reliable, that your product is quality, and that you provide top-notch account service. To qualify for the Buy Box battle at all you should meet the following requirements:
1. Having "Professional" account status and selling for at least 90 days.
2. Have Buy Box-eligible status – sellers who have Buy Box-eligible status (formerly known as Amazon Featured Merchant Status) receive the benefits associated with placing their listings on Amazon. Their listings are eligible to compete for the Buy Box, and listings that do not win the Buy Box are eligible for placement in the Buy Box More Buying Choices.
3. Selling new products .
4. Having an available inventory of the item competing for the Amazon Buy Box. Amazon's algorithm favours sellers whose product availability is kept high.

What determines the awarding of an Amazon Buy Box?
Understanding how Amazon's algorithms work allows you to work on optimising the performance of relevant metrics, ultimately increasing your chances of winning a Buy Box and beating your competition. There are many variables that Amazon takes into account. These are outlined below. The key is to invest resources and energy into those factors that have the greatest impact on the Amazon Buy Box and strive to meet the target for all requirements.
Fulfillment Method:
Sellers who choose FBA (Fulfillment by Amazon) or SFP (Seller-Fulfilled Prime) typically have an advantage over those who sell FBM (Fulfillment by Merchant). As mentioned above, the overall customer experience of the purchase is extremely important to Amazon, which is why the platform places a premium on those who outsource the operational handling of orders to Amazon. This is because it guarantees a timely and hassle-free delivery. If, on the other hand, you prefer to handle shipping and all other operational activities yourself, you still have a chance to win an Amazon Buy Box, but you have to "prove" that you deliver quickly, reliably and to the satisfaction of your customers. In other words – Amazon's sales service works perfectly for you.
Product Price – The total amount that a product is sold for on Amazon:
Amazon's goal is to increase sales because more sales volume means more revenue for the online giant. For this reason, the retailer with the lowest price is often rewarded with the Buy Box specifically.
However, the lowest price does not always win. As a customer-centric platform, Amazon also attributes a key role to sales performance. As such, excellent sales performance and ratings can beat the lowest price in the battle for the Amazon Buy Box. If two sellers have exactly the same ratings, but the price of one seller's product is 0.01 lower then that seller will win the Buy Box but certainly not 100% – Amazon will also split sales between other sellers, but the seller with the lowest price will make the most sales. If Amazon as a seller appears on a given product listing the rules change and it is Amazon's offer that largely wins the Buy Box and even a price advantage of more than 0.01 does not guarantee a Buy Box.
Shipping Time:
The faster you ship, the better. Delivery within 2 working days is most favourable if you operate on the FBM model of course.
Product availability:
Temporarily unavailable listings and "out of stock" messages effectively prevent you from getting a Buy Box. Ensure that your stock is replenished on a regular basis.
Account Performance ( Account Health):
An overall indicator of account quality which includes Customer Service Performance (CSP) and Delivery Performance.
Customer Service Performance (CSP) → Order Defect Rate(ODR):
ODR is a key metric in determining your business' ability to provide the best customer service. It represents all orders with a defect (defined below) as a percentage of total orders in a given 60-day period. Account ODR is affected by the following factors:
– negative feedback, A-to-Z Complaints,
– Service Chargeback Rates.
According to Amazon's policy, the defective order rate cannot exceed 1% of total orders. More recently, Amazon has also included the Invoice Defect Rate (IDR), which is the failure to include an invoice with a customer's order, in the CSP rate. At this point, Amazon recommends that this rate not exceed 5%. Momentarily, there is no penalty for failing to meet this target, but from April 2021, an IDR above 5% could result in account deactivation.
Customer Feedback:
Customer feedback is another factor that influences the Amazon Buy Box algorithm. This feedback includes positive, neutral and negative customer reviews over the last 30, 90 and 365 days. To get the best results, you need to get at least a 90 percent positive customer feedback rating. Amazon also looks at how many reviews you have in relation to your sales history. If you have a longer sales history then the Amazon Buy Box algorithm expects more reviews. That's why it's important to encourage shoppers to give reviews after a completed purchase.
Customer Response Time:
A seller is required to respond to every customer message within 24 hours, regardless of the day of the week, holidays or holidays. However, when competing for Amazon Buy Box, responses should be provided up to 12 hours after the request is received, giving you a competitive advantage.

Delivery Performance: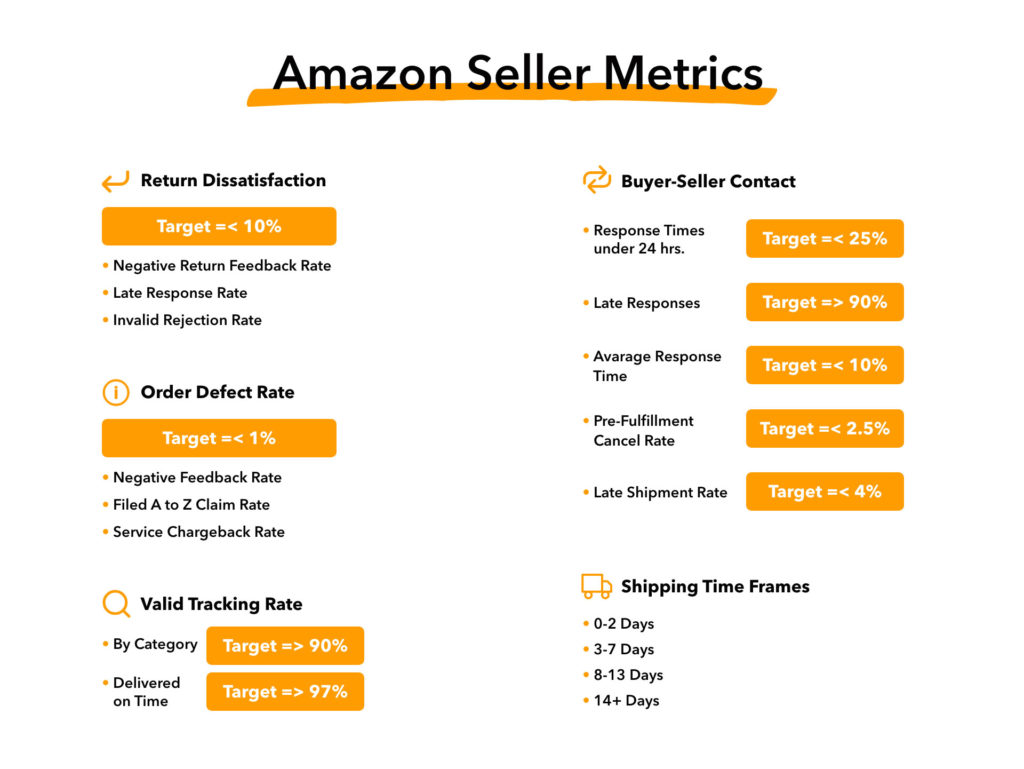 – Valid Tracking Rate (VTR)
This is the percentage of all orders shipped with correct shipping data (correct Tracking Number and correct carrier name).
Here the vendor must stay above 95%.
– Late Shipment Rate (LSR)
This is the number of orders shipped later than the expected shipping date. The LSR must be kept below 4%.
– On-Time Delivery Rate (OTDR)
This is the percentage of orders that were delivered on time. Amazon recommends that this rate be maintained above 97%.
– Cancellation and Refund Rate
Too many cancelled orders and returns also have a negative impact on the overall quality of your account. Here the rate must not exceed 2.5%.

The table below summarises the elements that affect the Amazon Buy Box and classifies them according to their relevance in the process of acquiring it. Analyse your Seller account against the indicators below, identify which elements you can improve. Periodically return to this summary to review these values and set a target for further optimisation.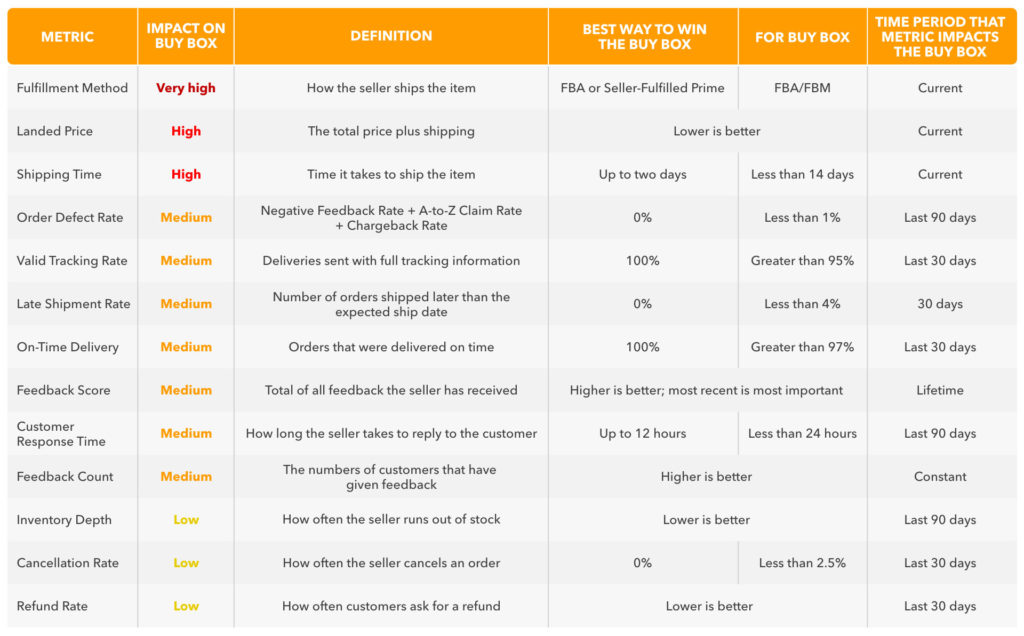 SUMMARY
There is no golden mean for winning the Amazon Buy Box. This success is made up of a number of metrics that need to be monitored and continuously improved.
Being able to sell in an FBA model, having Prime products, improving customer service and understanding pricing are key to winning this coveted privilege. Of course, Amazon has not made public the factors mentioned here. As with Google's algorithm, this is an A9 Algorithm secret, but our experience on many client projects and the findings of other experts suggest that the metrics described above have a strong impact on getting your listing into the Amazon Buy Box.
At Go2Market we are happy to share our knowledge, our experiences and encourage you to do the same. If you have any comments or questions about Amazon Buy Box share them with us and other sellers in the comments.

Happy Buy Box winning!
Magda Wiącek
Head of Customer Care